In this lesson, you will learn how to successfully use FileZilla to upload data to IO Assessment
You may need Admin rights on your computer to install this program. If you receive any error message or are prompted for a password when attempting to install please reach out to your district admin or IT department.
Before You Get Started
You will need the following information to access your FTP Account:
The FTP host address that is assigned to your school district
Your districts' FTP Username and Password
FileZilla
First Download FileZilla Client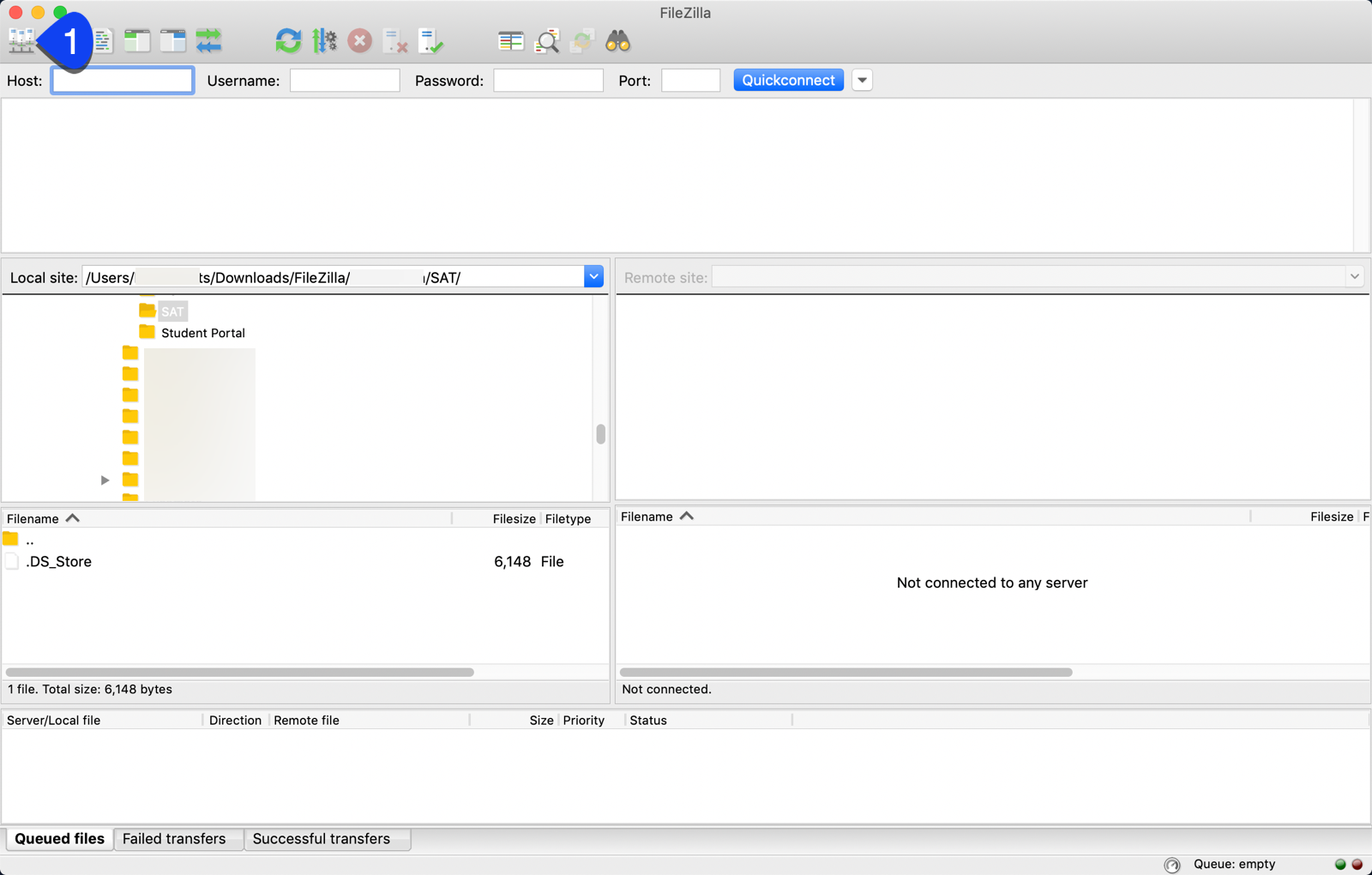 1. Open FileZilla and click the Site Manager icon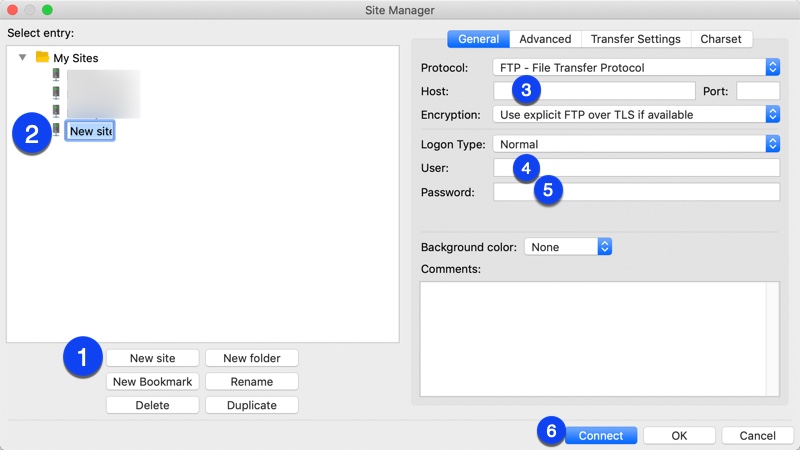 Click on New Site
Give the site a name. (You can name it IO Assessment FTP as an example)
Here you will type in the FTP host address ( Example: ftpes://ftp.adrylan.net )
The username provided by IO Assessment Support is entered here
The password provided by IO Assessment Support is entered here
Click Connect after you followed steps 1-5. This will save the FTP information so you can quickly reconnect without having to re-type all of the credentials in again.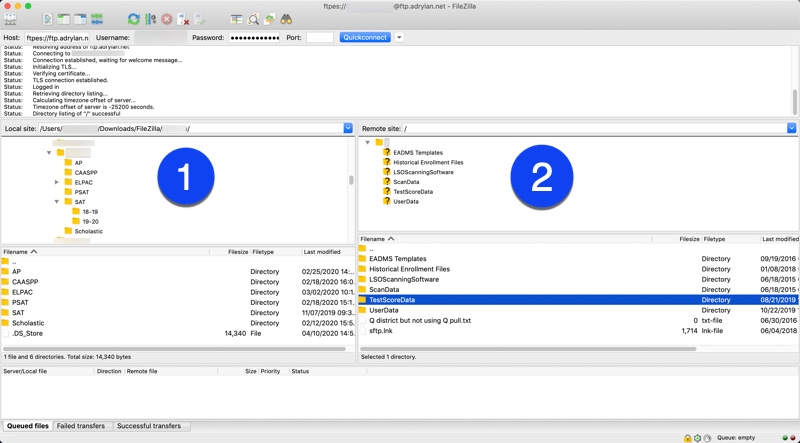 Once connected you will see two areas within FileZilla.
1. The left side of FileZilla is your local files. These are files stored on your computer.
2. The right side of FileZilla is the FTP Server. These are files stored on the FTP to be accessed by the IO Assessment team.
Basic usage for FileZilla involves using the filetree on the left side of the program (See 1) to find the file you wish to upload to the Assessment Team. Once you have located the file you wish to upload you need to make sure you are in the correct location on the FTP Server side of the program (See 2).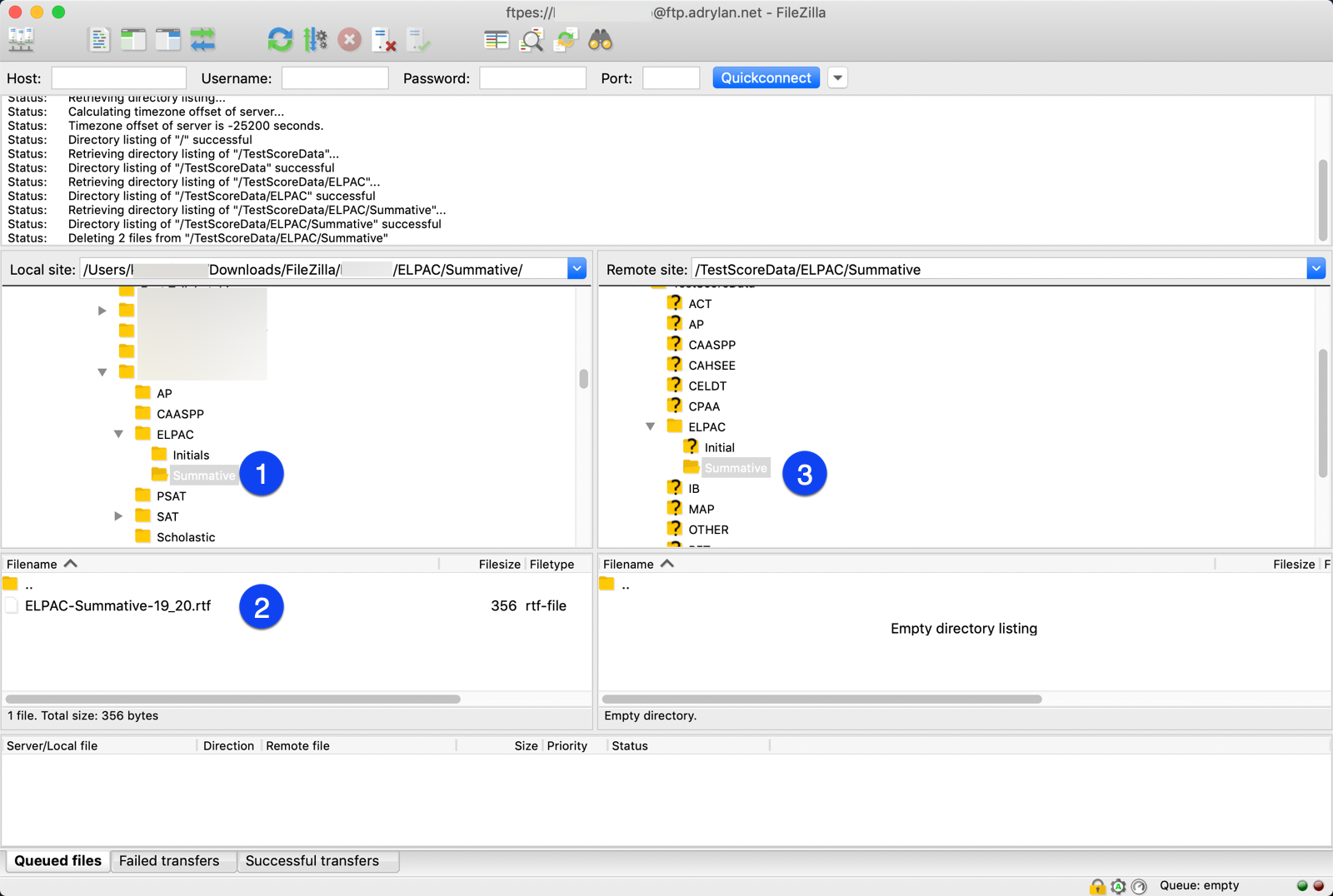 Use the top-left portion of FileZilla to navigate through your folders. For this example, I am trying to upload some ELPAC-Summative data for the Assessment team to upload.
Once you have located where my ELPAC-Summative file is stored you will see it on the bottom-left portion of FileZilla.
Before we upload any data we want to make sure we are sending the file to the correct folder on the FTP Server. Simply navigate through TestScoreData > ELPAC > Summative on the FTP side of FileZilla. Once you've clicked into the Summative folder you can now upload your data

The very last step is to simply right click your local file and select the Upload option.

You should see the file on the FTP Server side of FileZilla and you will have a log at the bottom Successful Transfers.