The Fluence Test Import Utility is enabled for all districts who subscribe to Fluence and have an agreement with Fluence to build tests in Assessment Studio or have customized tests built for them by the Fluence team.
Click Utilities > Managers > Fluence Test Import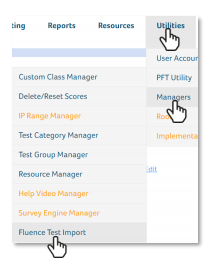 Put a check in the box next to the test(s) you want to import.

Scroll down to the bottom of the page and click Import.

The page will refresh. You can click the new EADMS Test ID for each test you imported. This will allow
you to Manage the test in EADMS (schedule it for administration, share it with others, etc.).