Double-click this desktop Icon.

Enter your EADMS or IO Education username and password in the pop-up window.
Place your scan sheets in the scanner appropriately, then click Scan.
Results begin to show.
• White = correct answer
• Red = incorrect
• Pink = blank or multiple marks detected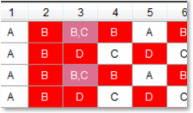 If you use a generic scan sheet (i.e. for a new student), enter his/her I.D. and click this button.
If the system detects issues, the editor will open. You can "turn on" or "turn off" a mark by clicking its bubble.
To access the next scan sheet, click Next.
To enter a missing student I.D., do so in the StuID field.
To access scan sheets that don't have issues, click the Wrench.