Click this Tile

OR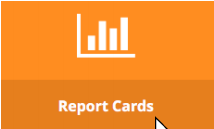 Click Reports >
Individual Reports >
Report Cards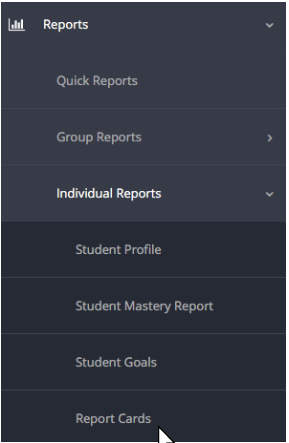 Select your student
group and
select your term.
Click Next.



Correct any enabled
student flags if
necessary
(uncommon).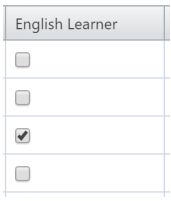 You can enter data
two ways.





Enter Grades by Student

You can select
students in two ways.
Click Load




Enter comments in
both languages for EL
students. The comments
will automatically
populate on their
home language
report card.




Click Save before
leaving the page.



You can navigate to
the standards view by
clicking a blue subheading.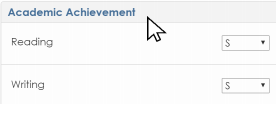 Enter Grades by Standard

Step 1: Use the dropdowns to
select the Report Card,
Section, and Sub-section.

Click Load.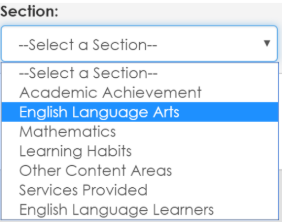 You can prefill all of the
values for a standard by
clicking Set All and
choosing a value.
Then change individual
scores as needed.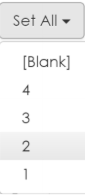 Click Save.



Repeat Step 1 above for
remaining sections.

Click Home after
finishing and saving.




To preview and/or
print a blank, click this
button.




To print all completed
report cards at once,
click All and then
Generate Report
Cards.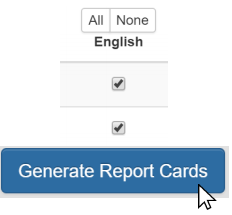 Print report cards for
EL students one at a
time because they
may contain 3 pages if
your district adds an
EL addendum.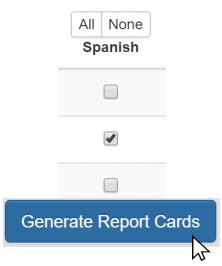 Click Generate Report Cards.

To print past report cards for students, click this button:




Then click this button: