Simple or Multi-Dimensional Rubrics
These instructions will help you decide and then create the right rubric for your item.
Before you can save any type of Constructed Response item you must add a rubric.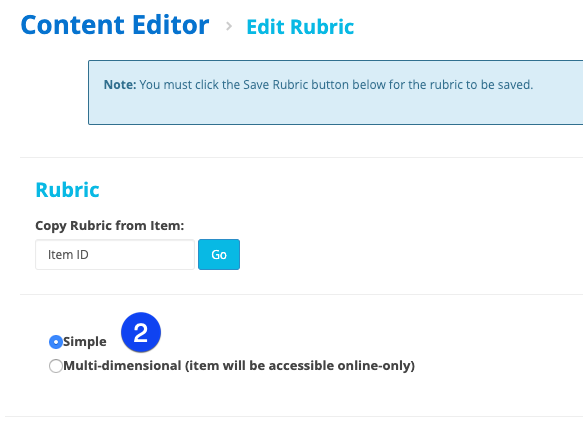 Access the rubric by hovering over the word "Rubric" and clicking "Edit"
Choose the Rubric type
Simple Rubric


Choose a Bubble Group (for points possible) and Add Columns (for different traits or facets)
Points possible:
You can increase the points possible for an item by entering a multiplying number.
Example: If you make a 3 point simple rubric worth 6 points, then when the teacher selects a:
1pt bubble, the student receives 2pts
2pt bubble, the student receives 4pts
3pt bubble, the student receives 6pts
Any added columns will maintain the same Bubble Group and adding columns does not change the points possible.
Multi-Dimensional Rubric
Choose a Bubble Group first and then add a Column.
Each column will be worth the number of points in that column.
Each column can have a different bubble group assigned.
For example, if you have 2 columns both worth 4 points and 1 column worth 2 points the total amount of points possible for this item will be 10 points.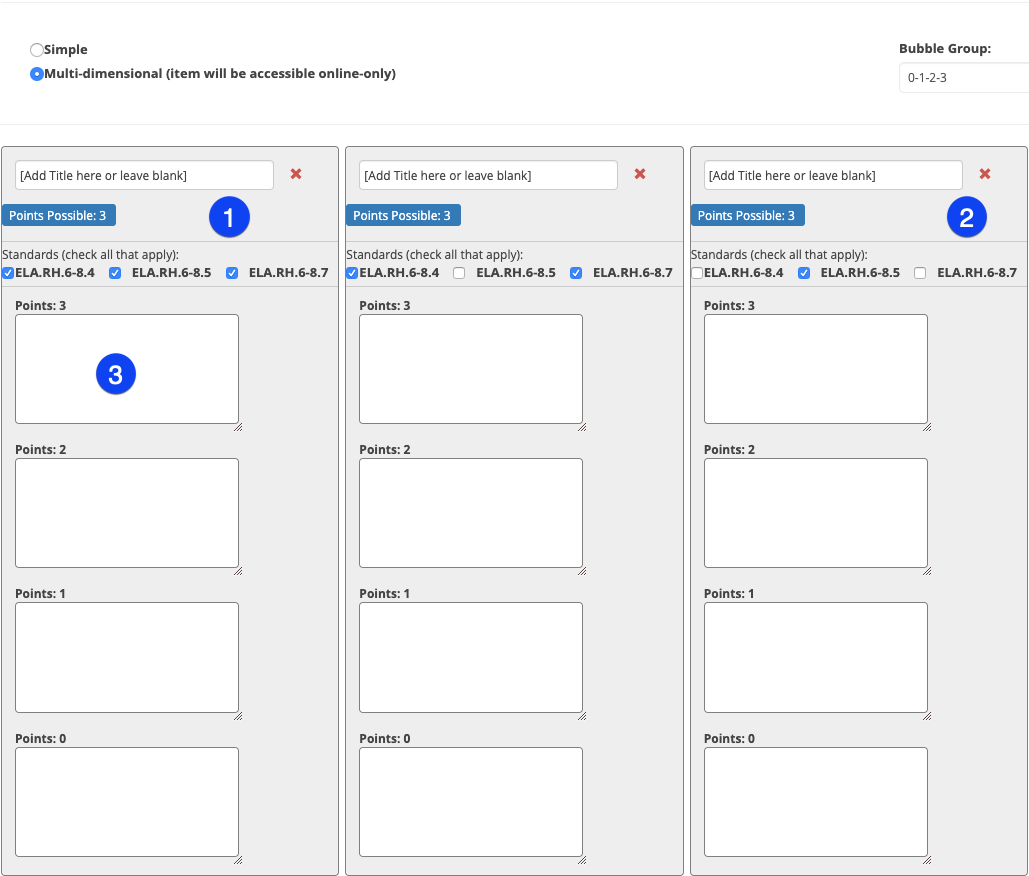 Hint: If your first column is something other than a 3-0 rubric (the default), change the bubble group for this 1st column BEFORE changing the rubric from Simple to Multi-Dimensional
You can select or deselect different standards for each column (Standards are applied when creating the item.)
Add text to your rubric, while not required, is highly recommended.

To finalize your rubric click Save and Return to Item